What is The Leverage Game?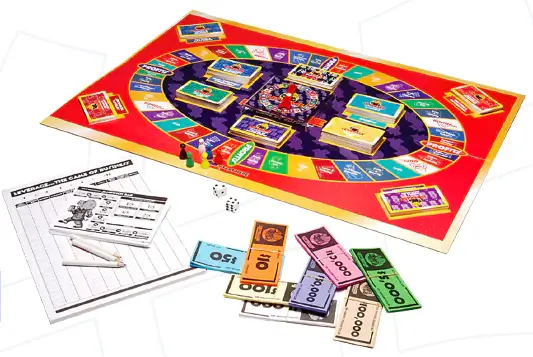 Introducing The Leverage Game – A Journey into World-Class Management!
Leverage: The Game of Business is more than just a game; it's a transformative learning experience designed to sharpen your business acumen.

Built on the success of ActionCOACH's authentic business board game developed 20 years ago, The Leverage Game now brings those insights online. This exciting platform offers an unparalleled opportunity to:
 
Compete globally, anytime, anywhere, against international managers and executives.
Master over 280 marketing strategies and 80 management strategies through engaging gameplay.
Elevate your management skills to global standards, fostering resilience in an ever-changing world.
Who Should Play The Leverage Game?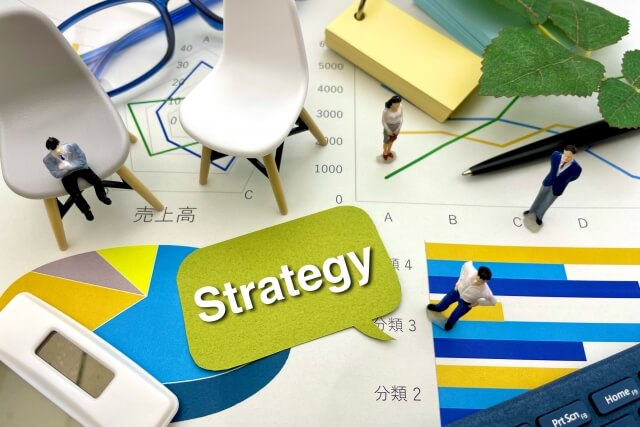 Managers and Executives seeking to cultivate realistic, international management techniques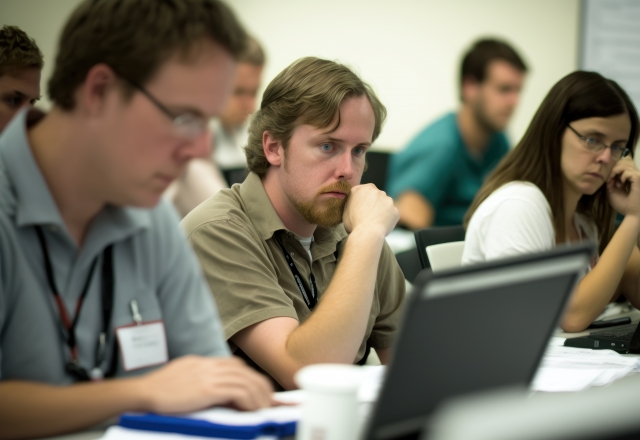 Consultants who wish to enrich their training programs for managers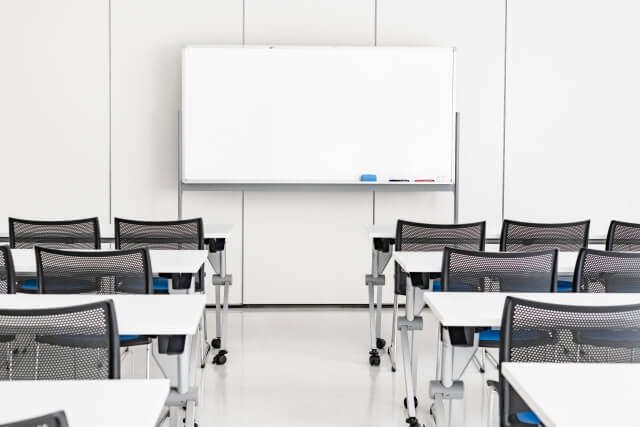 Students and Educators aim to explore management concepts or enhance educational materials
Develop Global Management Professionals with The Leverage Game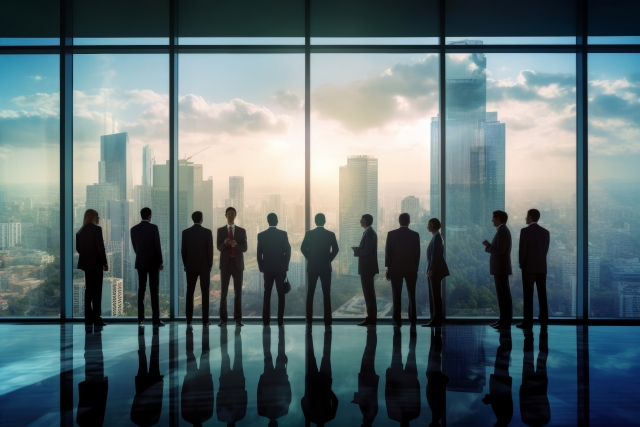 In today's fast-paced IT-driven global economy, conventional management strategies are rapidly becoming obsolete. Embrace the future with The Leverage Game:
 
Adapt to remote working trends prevalent in today's connected world.

Break away from traditional management models and align with the global forefront.
Prepare for the unforeseen by developing actionable management techniques fit for international application.
The Leverage Game incorporates ActionCOACH's coaching methodologies, used in 70 countries, to facilitate hands-on learning of world-class management practices. Benefits include: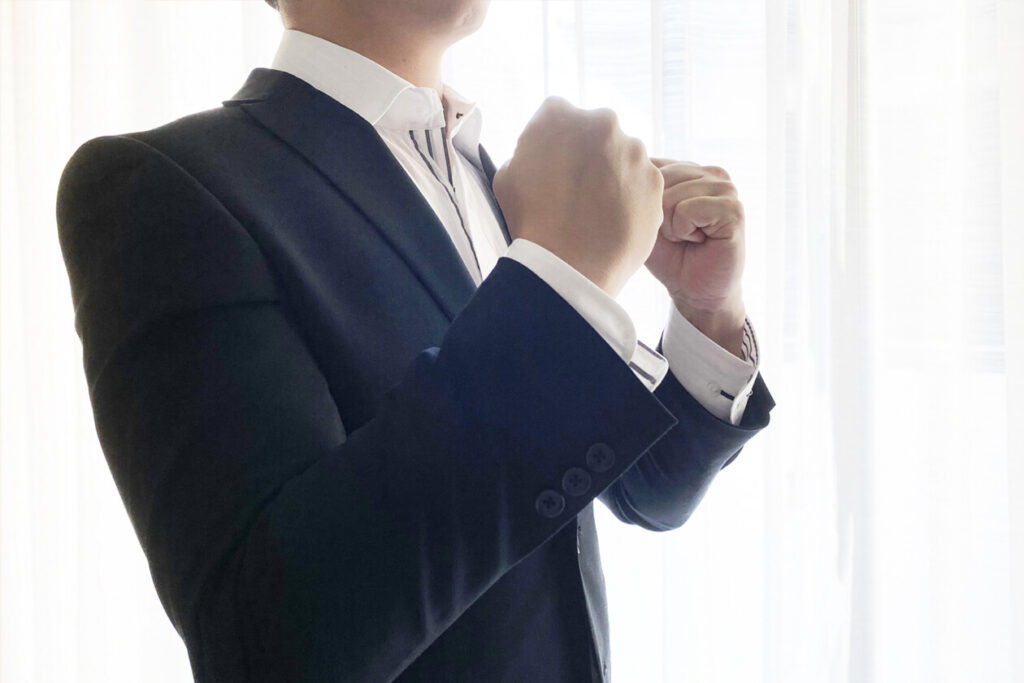 Boosting motivation and self-confidence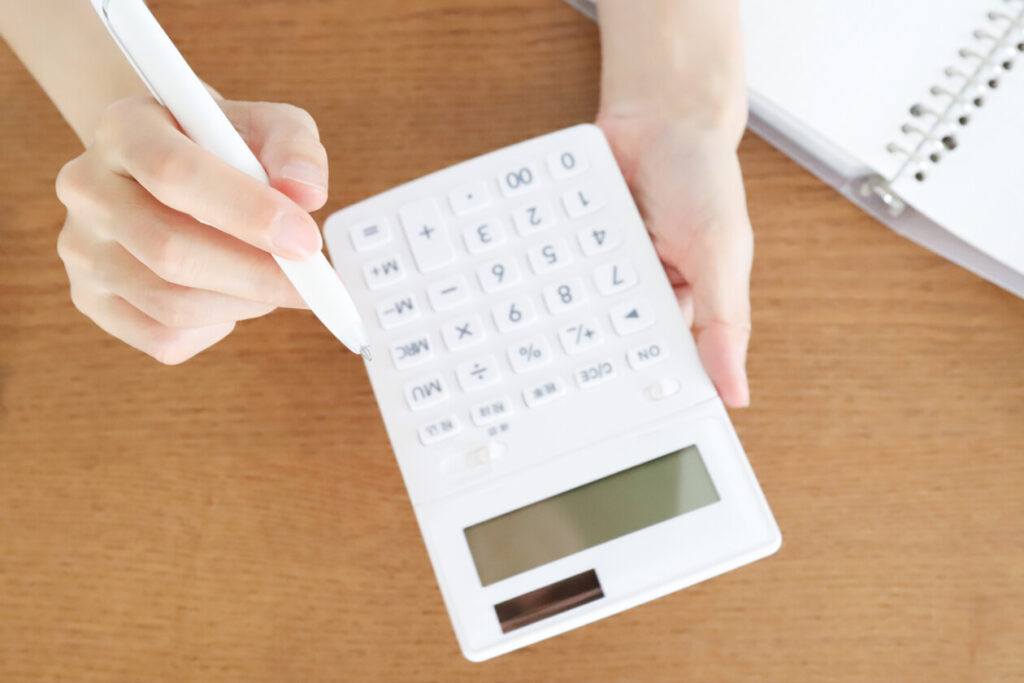 Enhancing bookkeeping and accounting skills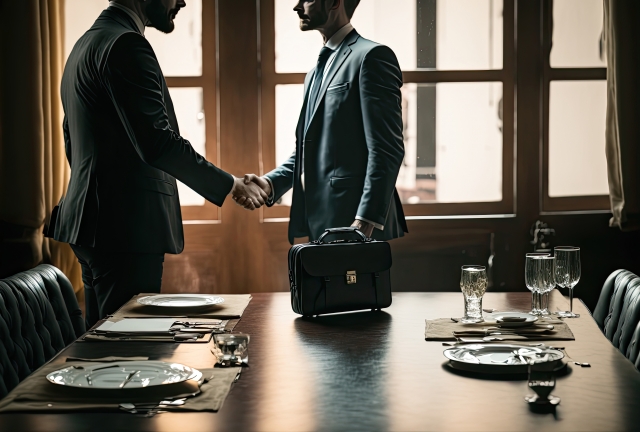 Cultivating leadership behavior
Join a four-player online game via Steam (with 130 million monthly users), or let our intelligent AI be your competitor. Global accolades and research affirm the transformative effects of business games – become part of this thrilling experience!
The Leverage Game Overview
Four-player online games, or if you don't have enough players, the AI will play on your behalf.
Play against other users around the world via Steam, which has 130 million monthly users!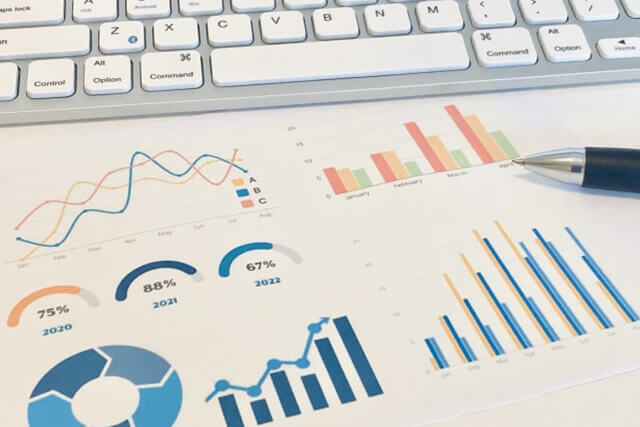 Over 280 marketing strategies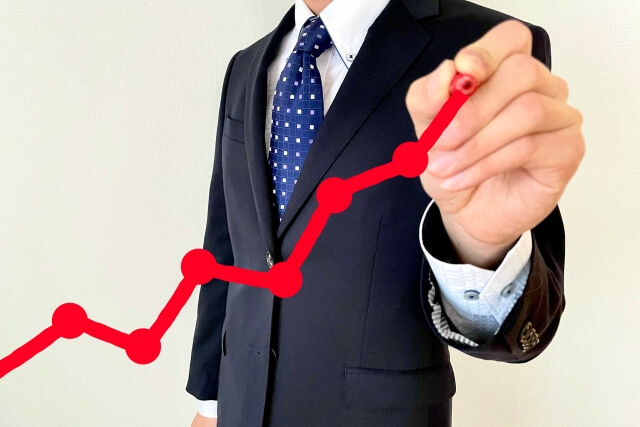 Over 80 management strategies
Put your management skills to the test!
Frequently Asked Questions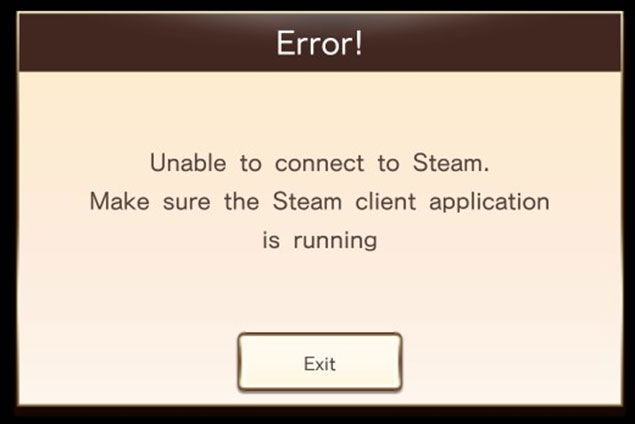 Steam client is not running.
Check that the Steam client has started, and then start the app again.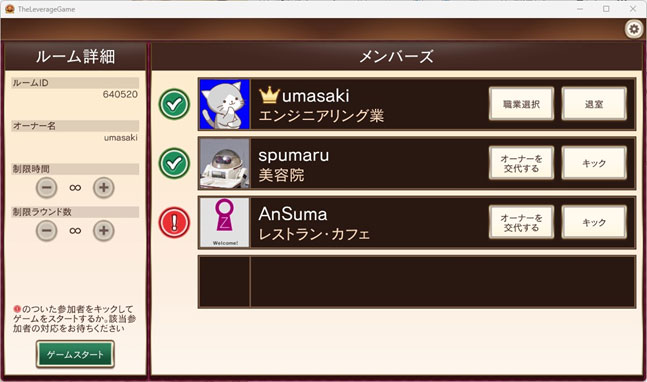 After the game owner clicks Start Game
If there is a player with 「!」
on the network that the player is connected to
Port: 27000-27100 may be blocked by firewall.
For that player, open the port if possible.
Or, prompt them to change the connection destination to another network.
If the communication environment of the corresponding player cannot be improved
If the player voluntarily or the owner [kicks] (leaves the room),
[Game Start] is possible.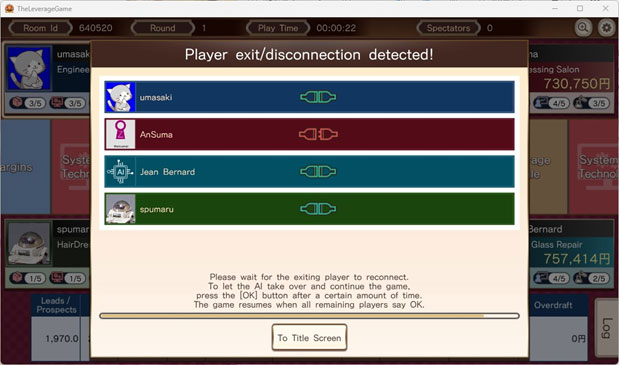 A player's network is unstable or disconnected
The above dialog will appear.
Other players should wait 90 seconds as there is a possibility of temporary disconnection such as momentary interruption.
Players whose network has become unstable should restore the network within 90 seconds.
If the network is restored within 90 seconds, the game will automatically resume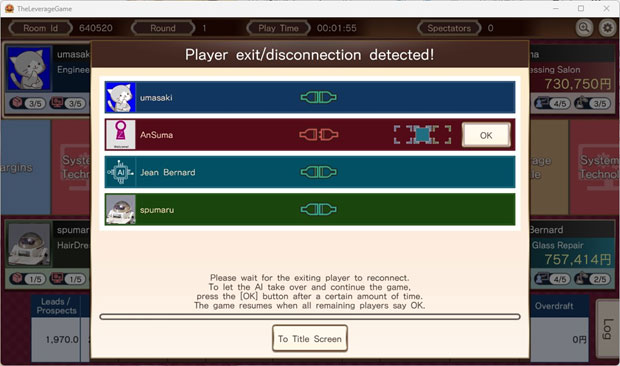 If more than 90 seconds have passed,
An [Approve] button will appear on each player's screen,
By everyone pressing the [OK] button,
AI can continue the game on behalf of the corresponding player.
As long as the game continues on behalf of AI,
Players who have left the game will be
By clicking [Continue] on the title screen,
You can return to the original game.